Monitoring Plants with IoT Sensors and LoRaWAN®: The Use Case

- 📖🕓 ≈ 
3
min -
The Problem with the Plants and LoRaWAN® as a Solution
Do you have plants at home, in your allotment garden or in the office and are you always unsure whether or when you have to water them again and how much water they need? Or do you have the challenge of having to ensure a certain indoor climate for your plants?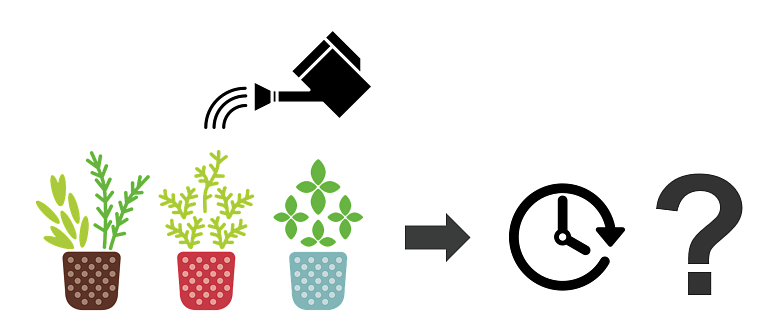 A simple and usually inexpensive solution to this problem is to monitor your plants using LoRaWAN® based IoT sensors. Apart from the fact that you no longer have to constantly ask yourself whether or when your plants need water again so that they don't dry out or even drown from too much water, monitoring your plants with LoRaWAN® can bring other advantages, depending on the respective area of application:
Optimized and cost-saving watering planning for plants and green spaces
Saving of the valuable resource water by avoiding unnecessary watering
Save time and money by optimizing work processes
Saving time and money by avoiding unnecessary patrols/drives
Saving time and money by extending the life of the plants thanks to optimized care and a reduced risk of drying out or drowning
Protection of the environment by reducing the need for new plants and saving water
Easier communication about who needs to water the plants in the shared office and when, if there is no caretaker or service provider to do this
Development of an automatic, demand-controlled irrigation system by linking it to the appropriate systems
Cost savings and increased yields for agricultural or plant breeding operations by optimizing growing conditions
With such monitoring, you can therefore water your plants in a needs-based and resource-saving manner and at the same time protect the environment. The main advantages of the LoRaWAN® transmission standard are as follows: You can conveniently access the measurement data remotely, unlike solutions based on Bluetooth, for example. LoRaWAN® sensors have a very low energy requirement and therefore a very long battery life, which in turn saves follow-up costs. Once a LoRaWAN® network has been set up, it can be quickly, inexpensively and easily expanded with additional gateways or sensors. And when used outdoors, you can use it to bridge very large distances.
What you need for the Implementation
To implement this use case, you basically only need the following three things:
One or more IoT sensors for recording the (for you) relevant parameters or measured values. We will go into more detail on the latter below.
One or more IoT gateways with a LoRaWAN® network for receiving and forwarding the measured sensor data, such as a ZENNER IoT GatewayPLUS
A tool for setting up notifications and, if necessary, for visualizing the data, such as the B.One Gallery

Plant Monitoring Parameters
At this point you may still be wondering which parameters are actually relevant for monitoring your plants. Basically, it depends on the one hand on your plants and on the other hand on which parameters are important to you personally. The following can play a role here:
Soil moisture
Ground temperature
Air temperature
Humidity
Air pressure
Illuminance / amount of light / solar radiation
Dew point
CO2 level of the room air
pH value
Among them the soil moisture is certainly one of the most important parameters and should be sufficient for most people, at least for the beginning. Especially when it comes primarily to the topic of irrigation. How exactly the soil moisture is measured in turn depends heavily on the sensor used. Of course, it also depends on whether your plants are indoors or outdoors.
Upcoming: Implementation Example in the Office
Ihr wisst nun, wie ihr eure Pflanzen grundsätzlich überwachen könnt, was ihr dafür braucht und welche Parameter dabei eine Rolle spielen. In another article, we will show you how quickly and easily you can implement the whole thing yourself using a simple implementation example in our office.
Do you have any questions, suggestions or your own experiences with this application? Then feel free to leave a comment or share it with us in your own blog post 🙂
Recommend

0

recommendations
Published in B.One Gallery, City and Country, Use Cases