B.One Community Howto: Use forums for knowledge exchange

- 📖🕓 ≈ 
6
min -
In addition to the direct messages and the Communities, as a member of the B.One Community you can now also exchange with others in topic-specific forums. Create your own discussions, answer questions of others, and benefit from the mutual knowledge exchange. In this article, we will give you an overview of the new forum area and tips on how to get the most out of it. If you are only interested in a specific aspect, then simply use the following overview to jump there:
Where can I find the forums?
You can access the forums in the desktop view via the "Forum" item in the left navigation bar and in the mobile views via the corresponding burger menu.

In addition to this, you can also access them via the "Forums" tab in your profile. Here you will find all your created discussions, given replies, saved as favorite discussions and subscribed forums (more about this below).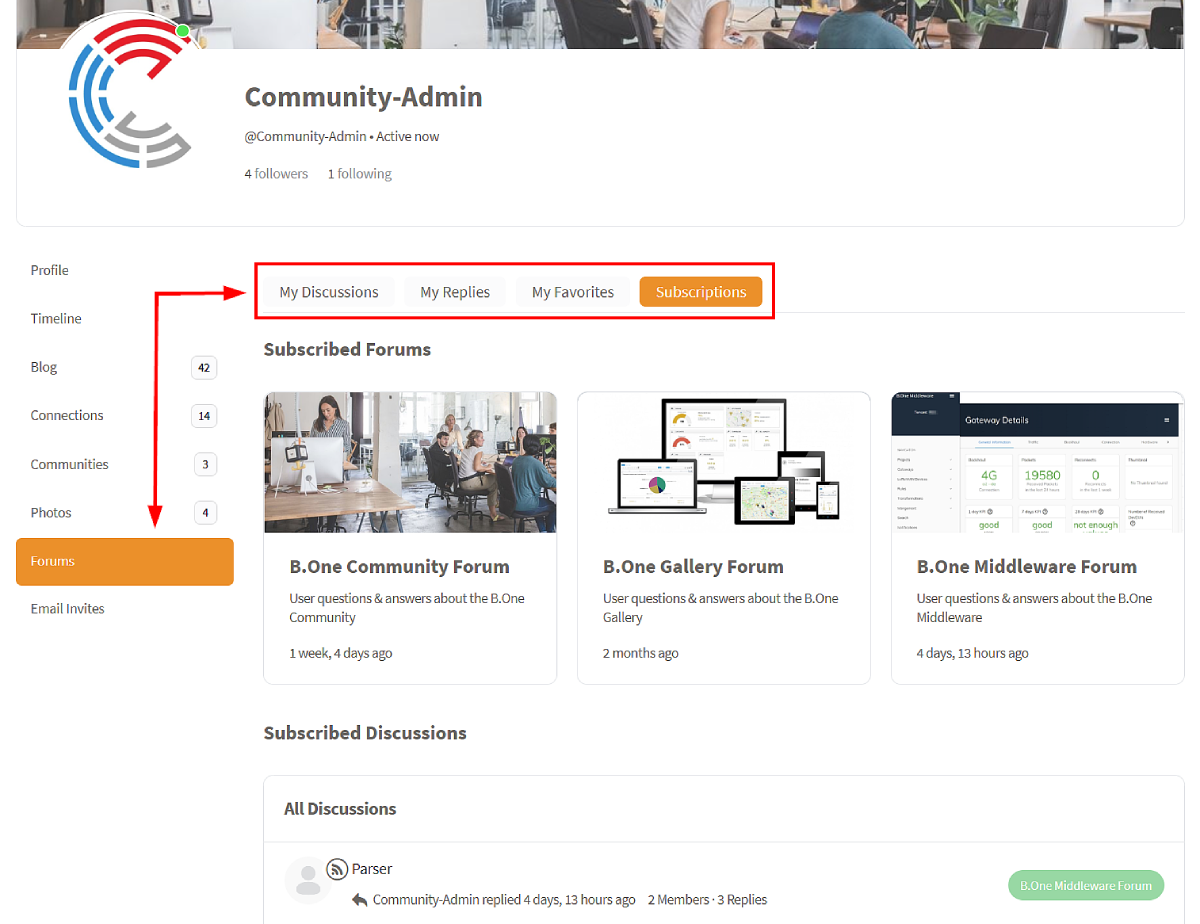 What forums are available to me?
As you can see above, the following three forums are currently available:
B.One Community Forum for questions and answers about our Community itself
B.One Gallery Forum for questions and answers about using the visualization tool for your sensor data
B.One Middleware Forum for questions and answers about using the central IoT platform in the Minol ZENNER Connect LoRaWAN® network
No suitable answer for your question? Then simply write a direct message to the Community Admin or use our contact form.
How do I create a new discussion?
The central element of the forums are the discussions, which always consist of a title and the actual question. Before you create a new one, please always first check via the discussion lists or the search (more on this below) whether there is already a discussion for your question. If not, to create a new discussion, simply do the following:
Go to the appropriate forum and click "New Discussion"
Fill out the form fields in the appearing input mask

Title: Give your discussion a meaningful and as compact as possible title*
Content: Formulate your actual question here. Formulate your actual question here. If necessary, use the toolbar at the bottom to add formatting and, if helpful, include images. Optionally, check the recommended box "Notify me of replies by email" and finally click on "Post"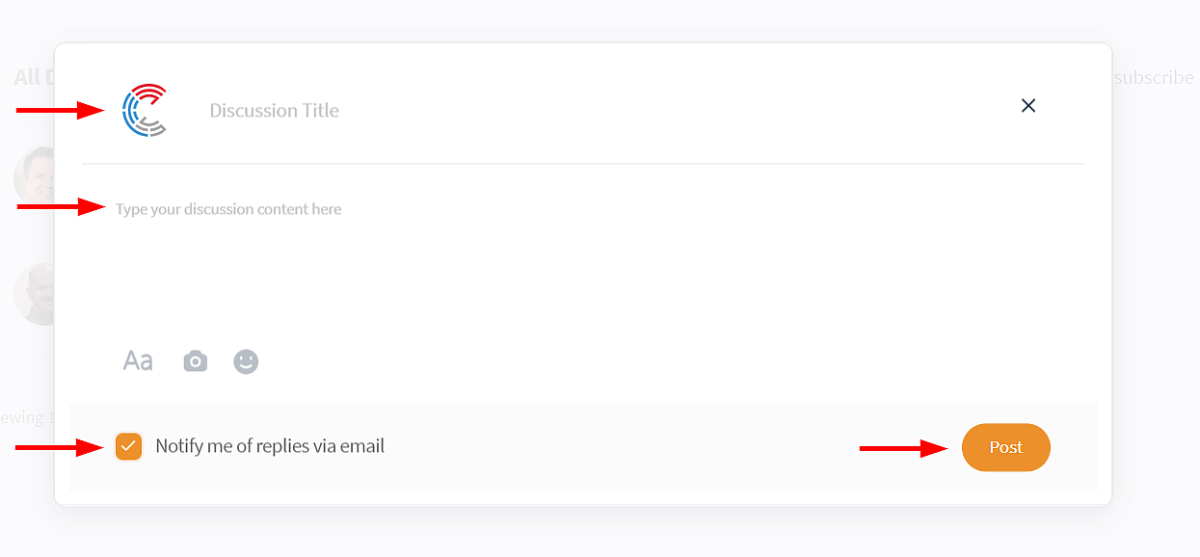 Your discussion will now appear in the discussion list in the corresponding forum and on the forums entry page and as a post in the so-called "Activity Feed" on your dashboard, i.e. under "News from the B.One Community".
* Two examples of meaningful discussion titles:
Invite others to the B.One Community
Get access to the B.One Middleware / B.One Gallery
Whether you formulate a discussion title as a statement or a question is up to you. However, you should refrain from embellishing formulations to keep the discussion lists of the forums as clear as possible.
How do I reply to a discussion?
You can easily reply to a discussion by opening the desired discussion and clicking on the orange "Reply" button in the top right-hand corner. Alternatively, you can also respond to an already given answer. To do this, click on the arrow icon that appears to the right of each answer as soon as you move your mouse over it: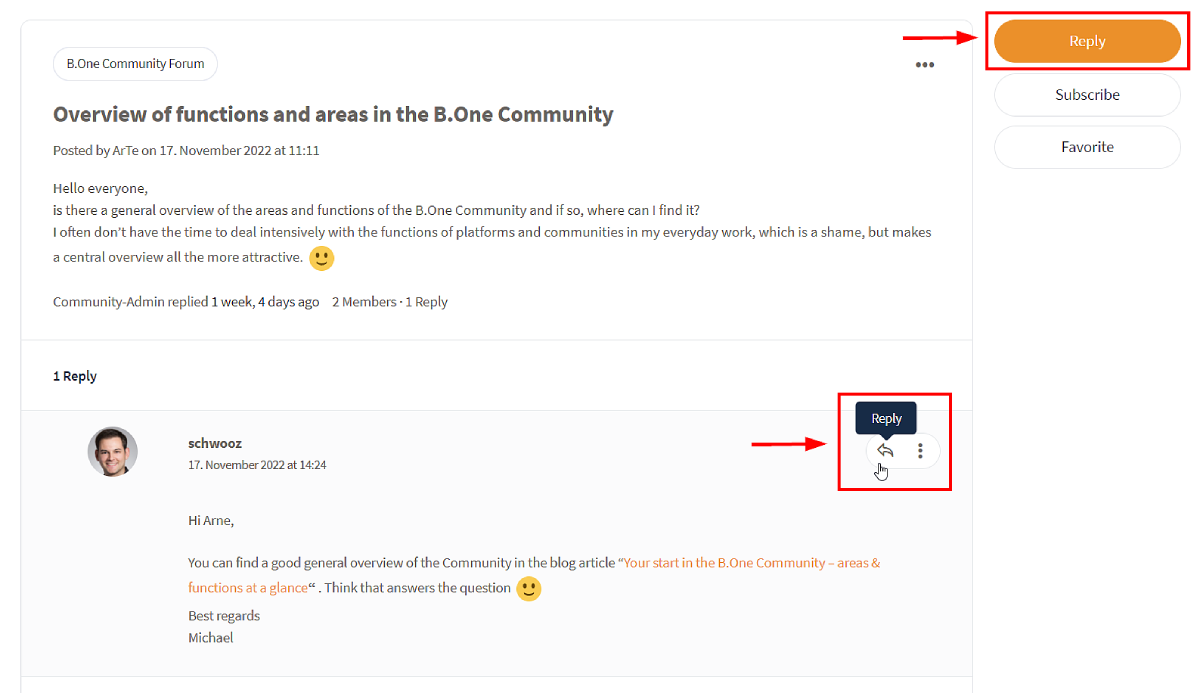 How do I get notified of new discussions or replies?
In the Community itself you always receive a notification in the following cases:
Another user replies to one of the discussions you created
Another user responds to a reply you gave in a discussion
Another user mentions you in a discussion or reply
In addition, you also get notified by default when:
Another user creates a new discussion in a forum to which you are subscribed
Another user replies to a discussion you are subscribed to
If you don't want this, you can change it in your account's notification preferences under "Discussion Forums":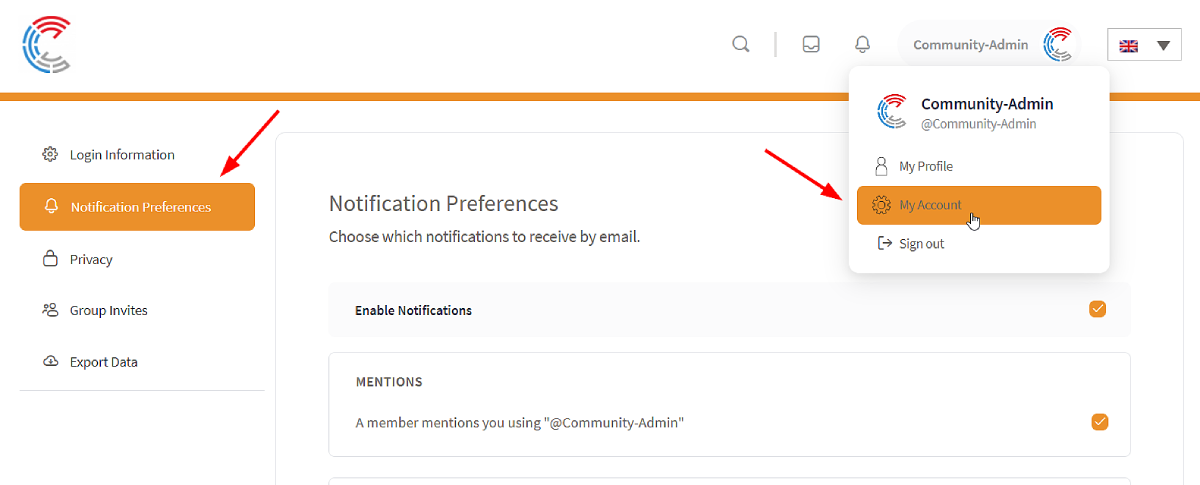 To also receive email notifications about the discussions and replies you have created in forums or discussions that you have not subscribed to, you can, as described above, simply tick the appropriate box for "Notify me of replies via email" when creating the discussion or reply.
Subscribe to forums and discussions
To subscribe to a forum or discussion, simply use the corresponding "Subscribe" button:


Tip: If you want to be informed equally about new discussions in German and English in a forum, then you must subscribe to the corresponding forum in both German and English. The same applies to subscribing to discussions. To change the language, simply use the language switch top right in the header.
Save discussions as favorite
In addition to the option of subscribing to discussions, you can also save them as favorites. This will make them available as quick access in your profile under "Forums /My Favorites" (see above). This is especially useful for discussions that you want to revisit or whose content you always want to have at hand.
How do I revise a created discussion or reply?
You can revise a discussion that you have created using the "Edit" option, which you can find in the menu behind the three dots at the top right. Important: A revision is only possible in the first 5 minutes after creation. If you still want to do this afterwards, simply contact the Community Admin via direct message or use our contact form. This also applies to deleting discussions, which you cannot currently do yourself.

How do I search specifically for existing discussions?
If you are looking for discussions or answers on specific topics or want to check whether there is already a discussion for your question, then take a look at the discussion lists in the respective forums and on the forums entry page , or simply use the search on the latter.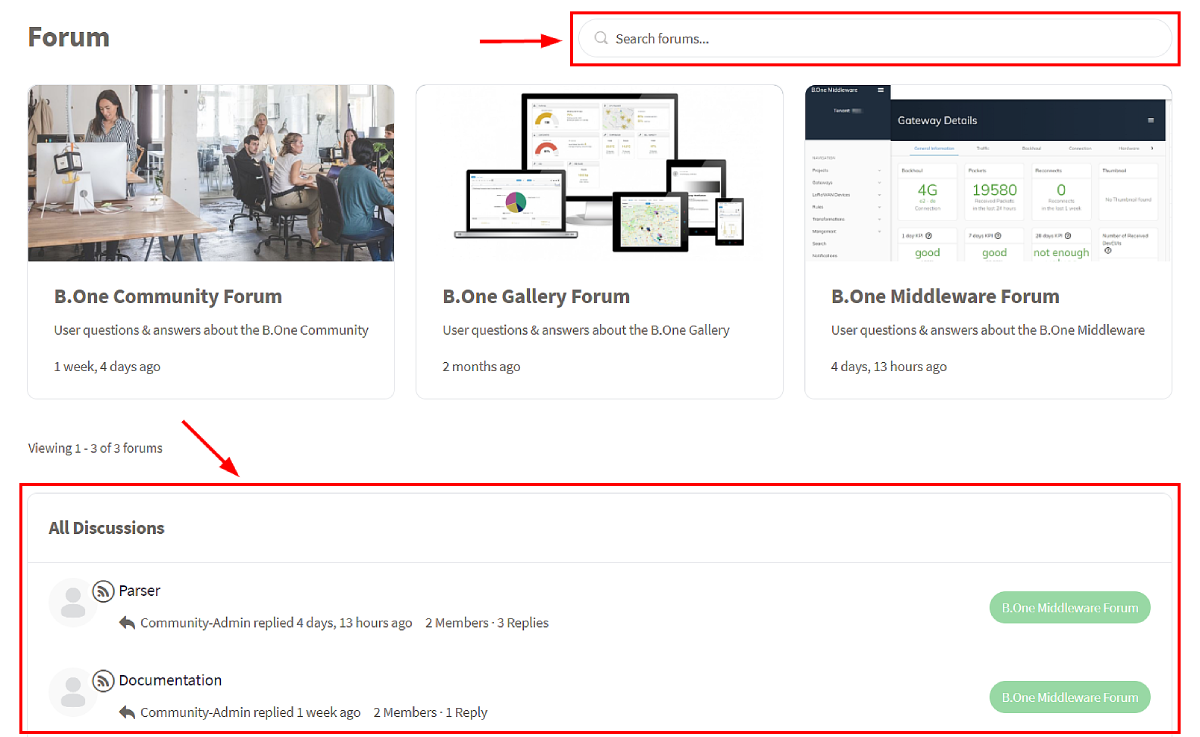 Who can see my created discussions?
All visitors to the B.One Community can see the discussions you have created, including non-registered members. However, only registered members can actively participate in them.
What else should I consider?
You don't have to pay attention to anything else in particular for the mutual exchange in the forums, but you should stick to the following points:
Compliance with the B.One Community Netiquette
Before creating a new discussion, always check if there is already a discussion with your current question
If certain discussions or answers seem strange to you, report them to us so that we can mark them as spam and delete them if necessary
Before creating a discussion or answer, always think carefully about the best way to phrase the title and the actual question. A later change is, as already mentioned, only possible in the first 5 minutes after creation
Please always post your questions in the most appropriate forum for the topic, and contact us if this does not apply to any of the existing forums
Recommended

2

recommendations
Published in Communities, General, Operating Aids