ZENNER IoT GatewayPLUS SMART – Compact indoor gateway with LoRaWAN® network for the socket

- 📖🕓 ≈ 
5
min -
Last updated: September 15, 2023
In one of the last posts we gave you an overview of the ZENNER IoT Gateways. Today we will present the ZENNER IoT GatewayPLUS SMART in detail. What distinguishes this Gateway? What are advantages but also limitations? For whom and which use cases is it suitable? We would like to answer these questions below.
The Gateway
The ZENNER IoT GatewayPLUS Smart is a compact indoor gateway for the socket. LoRaWAN® connectivity within buildings can be established quickly, easily and inexpensively, which means that smart home applications in particular can be implemented with little setup and installation effort. Other areas of application can be found in areas such as smart buildings, smart schools or submetering.
What is special about this gateway, in addition to the attractive price, is that after plugging it in, it automatically connects to the Gateway Management System (GMS) B.One Middleware as soon as there is a WLAN connection. So you don't have to worry about storing the gateway in the system before commissioning. Thanks to the possibility of power supply through a USB-C connection (also possible with a power bank or your smartphone), the gateway can even serve as a mobile LoRaWAN® hotspot .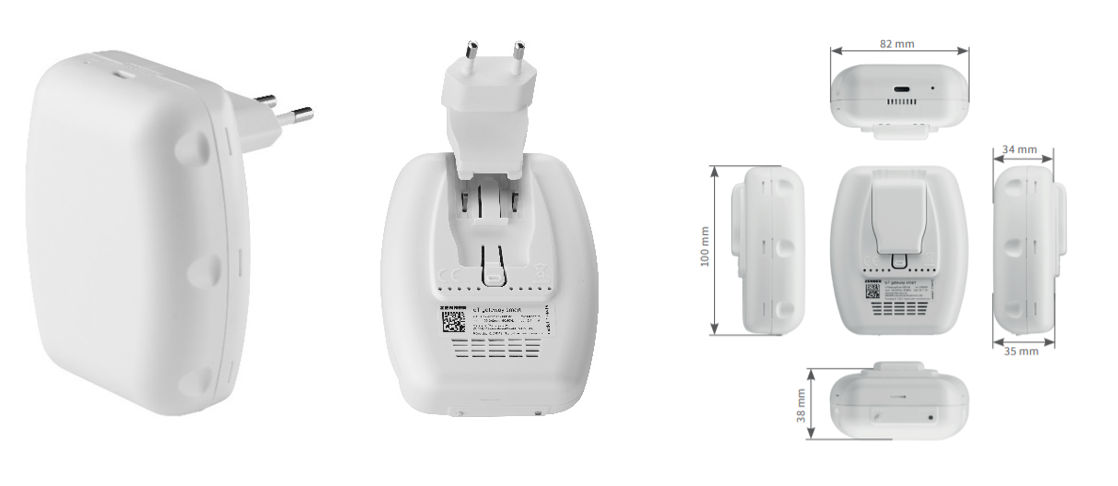 Features & Technical Specifications
Below is an overview of the main features and then the technical specifications of the ZENNER IoT GatewayPLUS SMART:
suitable for LoRaWAN® IoT solutions from ZENNER and network operation from ZENNER Connect
bidirectional LoRaWAN® radio communication
encrypted end-to-end data transmission (AES 128)
high level of data protection: no storage of data/readout values on the gateway
plug & play – easy integration with preconfigured software
Use in Germany and many other EU countries (as of May 9th, 2022: Austria, Denmark, Sweden, the Netherlands, France, Spain, Italy, Croatia, Slovenia)
Use as a mobile LoRa hotspot by connecting to a smartphone Wi-Fi hotspot and the USB-C connection for power supply (also possible with a power bank)
Wi-Fi 802.11 b/g/n, frequency band: 2.4 GHz, security: WPA/WPA2

8 channels, reception sensitivity: -140 dBm

230 V socket (Euro plug) / USB Type-C (900 mA)

Internal: 1x LoRa, 1x Wi-Fi

Plastic with flame protection according to UL94 -2013 Rev.9 -2019, class.: V- 0
Benefits & Limitations
In addition to the special feature just mentioned, the following advantages should be mentioned with this IoT gateway:
quick and easy commissioning and assembly
WLAN connection via WPS function or via PC/smartphone/tablet
very small form factor and unobtrusive design
mobile gateway function through power supply via USB-C port and WLAN connection via smartphone hotspot
ideal for smart home, smart office or smart school applications
simple and comprehensible operation via status LED
inexpensive
Notable restrictions , however, are the following:
existing WLAN connection as a prerequisite
very easy to disconnect by simply pulling it out of the socket or USB port
As with all ZENNER IoT gateways, there is currently no way to change the configuration or to use it with other backend systems than the B.One Middleware . Therefore, there is currently no way to view the gateway together with other sensors that have been created in the personal B.One Middleware account/tenant. The latter is basically only required for the installation of sensors whose data is to be received via the gateway (see also below in the "Installation & Setup" section).
For whom and what the Gateway is suitable
On the one hand, the gateway is ideal for beginners and users who want to quickly and easily implement their own LoRaWAN® use cases in the Internet of Things, but also want to gain initial experience . On the other hand, the GatewayPLUS SMART can also be used to cost-effectively expand or expand an already used ZENNER Connect network.
In particular, the gateway is intended for smart home, smart office and smart school use cases, e.g. to monitor air quality (CO2 ), room occupancy or whether doors or windows are open. The prerequisite for this are appropriate sensors that send their data via the gateway.
As already mentioned at the beginning, the gateway can also be used completely mobile using a power bank, smartphone or tablet and WLAN hotspot . This offers completely new application possibilities for mobile LoRaWAN® reception in places where there is no "Community LoRaWAN® network".
Construction & use of common IoT Infrastructure
Every GatewayPLUS SMART automatically expands the LoRaWAN® network of ZENNER Connect GmbH. This means that, due to the technology, all LoRaWAN® end devices in the reception area of ​​your gateway are received in encrypted form and transmitted to ZENNER Connect as the network provider. Encryption and client separation in the B.One Middleware ensure that each end user only receives the data from their own end devices. By purchasing a GatewayPLUS SMART, you also create added value for the entire community , as this creates an ever-growing, jointly usable IoT infrastructure . You yourself benefit directly from the connectivity even beyond the reach of your own gateway – and together we are driving digitization forward in various areas. And so that as a community member you can see where there is already network coverage through the gateways of other members, you can optionally display the approximate position of your own gateway on the so-called Community Map.
GatewayPLUS SMART with optional visualization
As described in the overview article on the ZENNER IoT gateways , the GatewayPLUS SMART is also available in the ZENNER shop , optionally with or without the ZENNER IoT PLUG&PLAY comfort option. The advantage of the latter: in addition to the LoRaWAN® network access that is always included, you also receive a 2-year license for the B.One Gallery visualization platform. With this you can easily visualize and evaluate the data from up to 50 IoT sensors.

Here is an example of the visualization of temperature profiles in the B.One Gallery :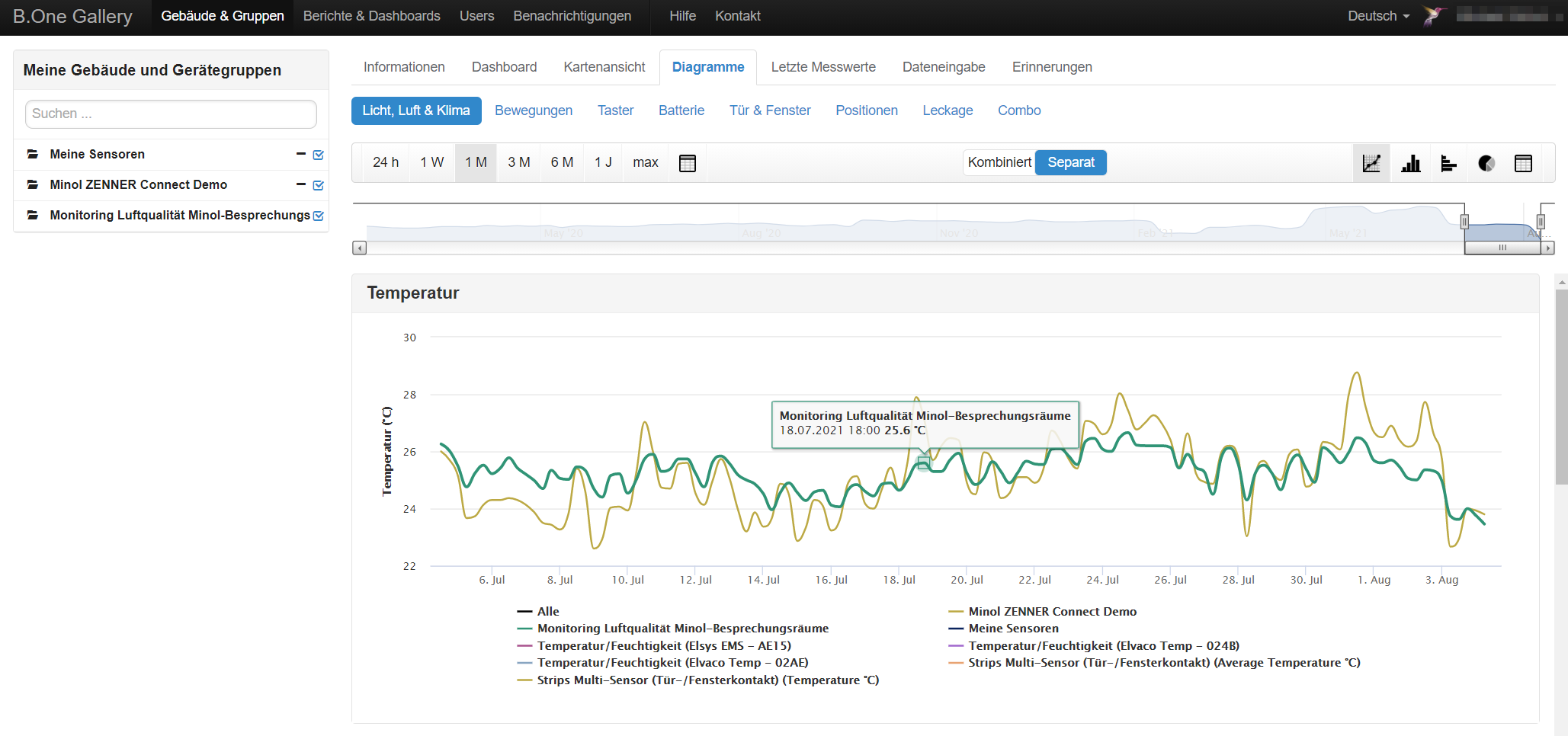 You can find more about the platform in our blog category "B.One Gallery" and on zenner.de.
Installation & Setup – easy & fast
Installing and setting up the GatewayPLUS Smart is very easy and quick. Whether ordered with or without the ZENNER IoT PLUG&PLAY convenience option, the pre-configured gateway will be available upon delivery through the installation already made for you in the B.One Middleware (see above) to the LoRaWAN® network from ZENNER Connect and automatically establishes a network connection after the initial setup, as soon as a connection to your WLAN is established (even if you cannot see it yet in your personal middleware account/client, which you receive or have already received after ordering the gateway, as explained above). So all you have to do is plug your device into the socket with the supplied power plug adapter (EU) and connect it to your WLAN. And it can already receive the data from your sensors within range and forward it to a visualization platform such as the B.One Gallery. You can find out exactly how this works in the supplied Quick Start Guide (QSG) or downloadable User Guide, or you can take a look at the blog article IoT GatewayPLUS SMART – Get started in under 5 minutes.
Do you already have experience with the ZENNER IoT Gateway SMART or do you have questions about it? Then share them with us in the comments or send us a message!
Recommend

0

recommendations
Published in Gateways, Visualization, ZENNER IoT PLUG&PLAY