Skiply Smilio Action Multiservices for LoRaWAN® & Sigfox – Device Presentation

- 📖🕓 ≈ 
4
min -
Do you want to implement an IoT use case that requires real-time interaction with a targeted target/user group? Then the so-called " connected buttons " from the French manufacturer Skiply might be of interest to you. One of them is the Smilio Action Multiservices (also called "Smilio A Multiservices" for short), which we would like to introduce to you here and then test it in practice using a LoRaWAN® use case. But we won't tell you exactly which one that is at this point 😉 . Instead, we will first answer the following basic questions in two articles:
Post 1 (this post):
What is the Smilio A Multiservices?
For which use cases is it suitable?
What are Advantages and Limitations?
How can you activate and mount the Smilio A?
How and to what extent can you change the Configuration?
After these first two articles, more will follow, in which we will present the concrete use case and go into the implementation.
What is the Smilio A Multiservices?
The Smilio Action Multiservices is a compact LoRaWAN® and Sigfox based battery-powered box with 5 interconnected buttons (hence "connected buttons") that enable real-time interaction with the targeted target/user group. In the standard design, four of these buttons are numbered 1-4, while the fifth in the middle is a smiling smiley face. Depending on the configuration and the mode set (more on this later), various events/states can be transmitted and automated actions can even be triggered when the button is pressed. The device uses the three integrated LEDs to indicate whether a press was successful. Thanks to the robust housing and the IP65 certification, you can use the Skiply Smilio A Multiservices both indoors and outdoors.
Here are a few views of the device including dimensions: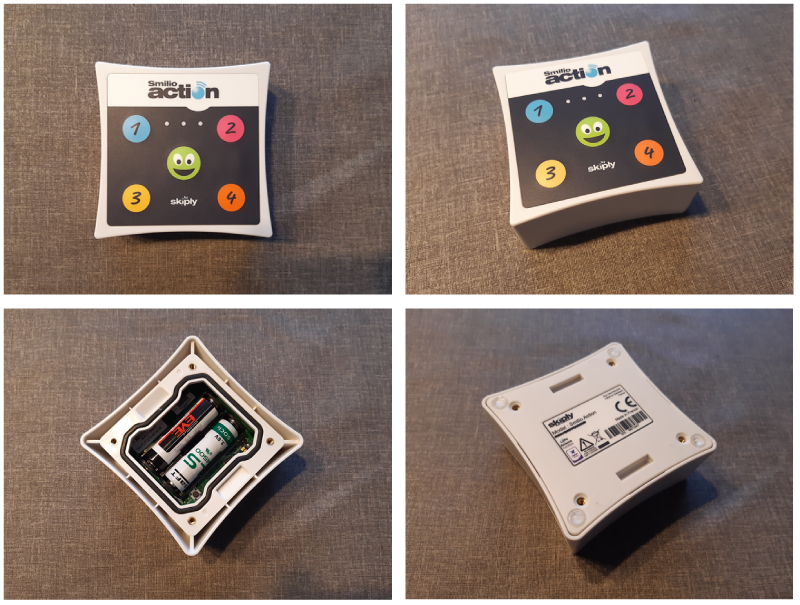 For which use cases is it suitable?
Because you can use the Smilio A Multiservices in different modes with different settings, it is suitable for many applications . Here are some examples:
Evaluation and improvement of the quality of products and services by measuring customer satisfaction (e.g. conducting surveys with 4 possible answers)
Evaluation and improvement of working conditions by recording employee satisfaction (analogous to the previous point)
Signalling/reporting of faults in facility management
Automatic replenishment through notifications to suppliers
automated intervention requests (service, security, maintenance, medicine, …)
Traceability of operations and personnel, also thanks to the integrated magnetic sensor
effective way to increase productivity: wherever field workers e.g. B. have to trigger simple processes, save time and reduce the risk of errors
Increased safety in workplaces such as B. Construction sites by authenticating the employees via code
What are Advantages and Limitations?
As with any device, the Smilio Action Multiservices has some notable advantages and special features, but also certain limitations.
The main advantages and special features are:
Versatility due to the different modes and setting options
LoRaWAN®/Sigfox dual mode = Usable with both technologies without special configuration. No WiFi, no 3/4/5G, no infrastructure work required before installation
Buttons with no moving parts = More hygiene and less susceptibility to wear and tear
flexible mounting both horizontally and vertically
Compact dimensions of 45 x 100 x 100 mm (H x W x D) and low weight of only 200 g (without batteries)
special antibacterial treatment = maximum hygiene and better protection against wear and tear
IP65 protection class = full protection against accidental contact, protection against dust and water jets (i.e. more than just splash water) from any direction
extremely temperature resistant:

Operating temperature -10 °C to +45 °C
Storage temperature -40 °C to +85 °C

Resistant to humidity from 0% to 80% (non-condensing)
remotely configurable via downlink
up to 6 years battery life
"Proof of Presence" technology: integrated magnetic sensor for personnel time stamp to verify presence
"Inopportune voting filtration system" : Algorithm that filters out inappropriate voting behavior, e.g. B. if a button is pressed several times within a very short time
also available with individual adjustments on request, such as:

Adaptation of the keypad to colors, logo or your corporate identity (CI)
different labeling of the keys
special treatments against bacteria, UV light and/or scratches
wide range of displays to be fixed on the floor, on the wall, on the counter (any type of fixing: double-sided tape, screws or anti-slip pads), using poster holders, etc.
Notable disadvantages or limitations, on the other hand, are:
Batteries are not included = you have to get them yourself
No integrated battery = additional follow-up costs due to the purchase of replacement batteries, which should also be limited due to the very long battery life
no mounting accessories included in the standard scope of delivery, e.g. B. a suitable hook to hang the device on the wall
As far as the other technical specifications are concerned, you can find them in the data sheet of the Smilio A.
Recommend

0

recommendations
Published in Sensors